B&B Italia Press Release – Wall Systems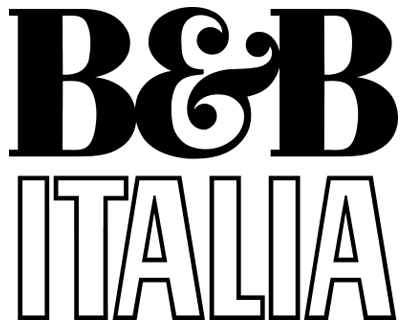 Modern design Wall Systems for the Modern Living Room
Books and TV are two indispensable companions in our daily lives. Books are beautiful to show off and have an almost furnishing feature when they dress entire walls. Video devices are the opposite. 50 years of history have radically changed their appearance and, despite the aesthetic attention reserved to them, they do not always fit harmoniously in the domestic context.
This is the reason why people often prefer to hide their presence. Storage units, TV stands and elements for living rooms and bedrooms are positioned on the ground or hung without compositional constraints.
Many design projects are dedicated to them to find different solutions that focus on both features and aesthetics. This is where B&B Italia has successfully set itself apart from the others. Being a leader in the development of products designed to interpret contemporary living needs by maintaining a high level of research and technological experimentation, B&B Italia was able to bring to life two distinct, functional, and elegant wall systems solutions.
Minimum Dimension For Maximum Space
Flat.C by Antonio Citterio
A versatile storage system that redefines the intelligent use of space and can be adapted to fit any space and fulfill all your storage needs, Flat.C constitutes the latest chapter in Antonio Citterio's search for dimensional wall systems.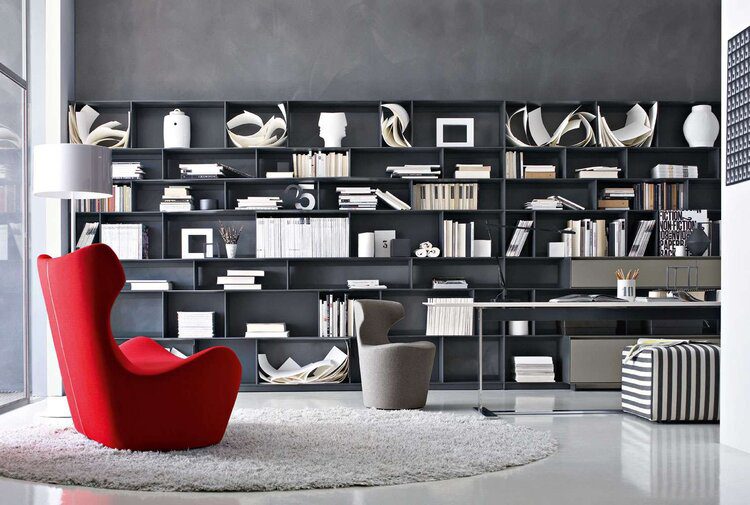 To the observer, the first striking feature of the Flat.C is the discreet elegance of the wall system. The bookcase, not only a functional element in your home, also adds a beautiful aesthetic that provides sophistication to any space – be it in the living room, family room or entertainment area.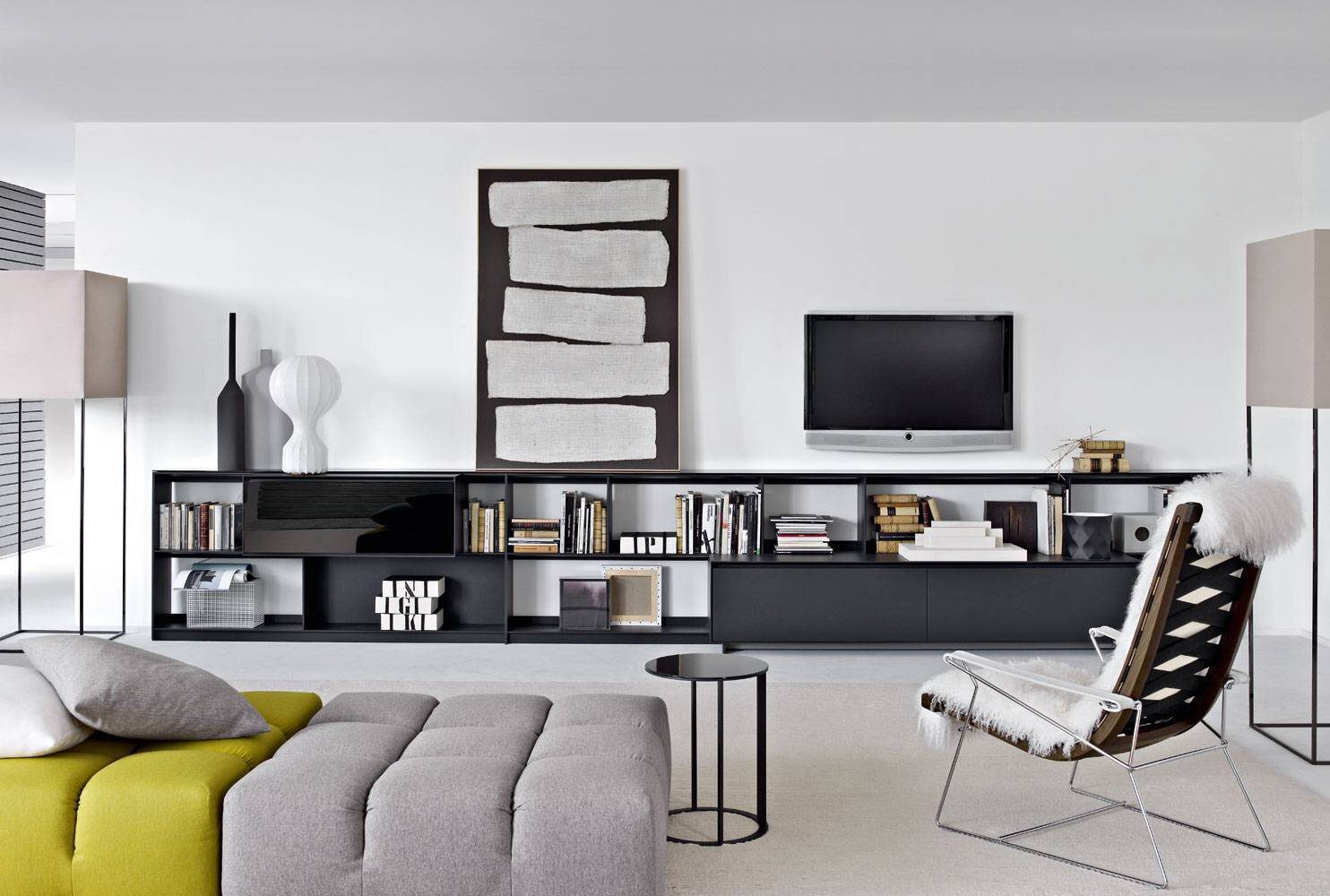 Flat.C's functionality lies in its element for containing — designed to house books and hi-fi accessories in the smallest amount of space possible, in different depths and configurations.
Another configuration allows for an integrated entertainment system that tackles the issue of containing or partially concealing video appliances through a series of container modules laid out harmonically with the shelves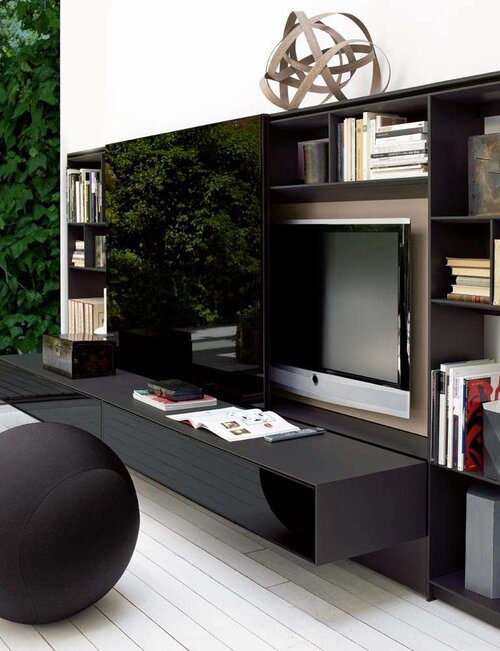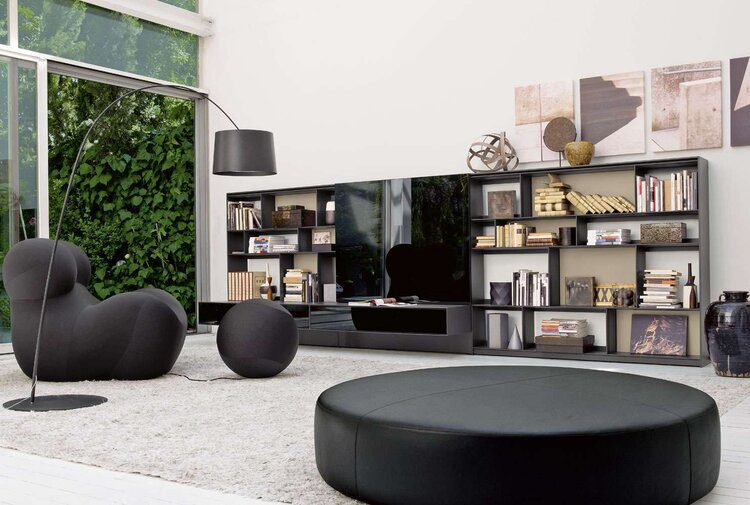 "The goal was to obtain a flexible system where it was possible to foresee an almost infinite number of different configurations based on a modular grid that organises the composition elements and restricts proportions," Antonio Citterio says.
The Flat.C has the option to be equipped with sliding doors. With only 25 cm in depth, the thickness of the shelves and sides are extremely thin and provides no visible joined parts.
Flat.C redefines the intelligent use of space, and finds a polished yet functional solution with its wide selection of colors and finishes.
A FOUNDING FATHER'S LEGACY
P.A.B Wall System by Studio Kairos
Piero Ambrogio Busnelli, one of the great pioneers of Italian contemporary design and founding father of B&B Italia has turned the lifestyle furniture brand that it is today into culture and accelerated the brand's character and opened doors for endless possibilities in the global design industry. A significant design beget by his visionary leadership is PAB by Studio Kairos, named after the initials of the late founder.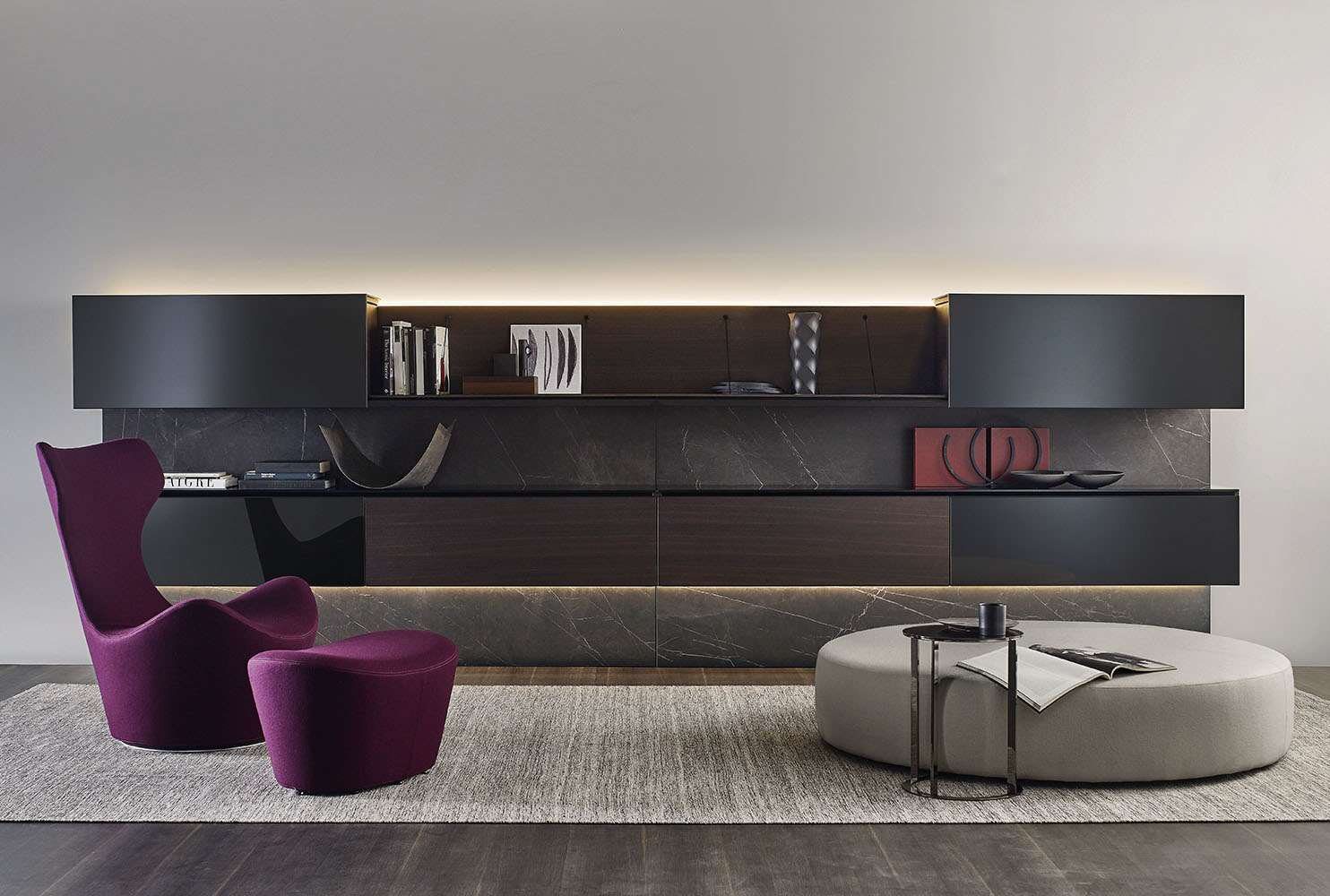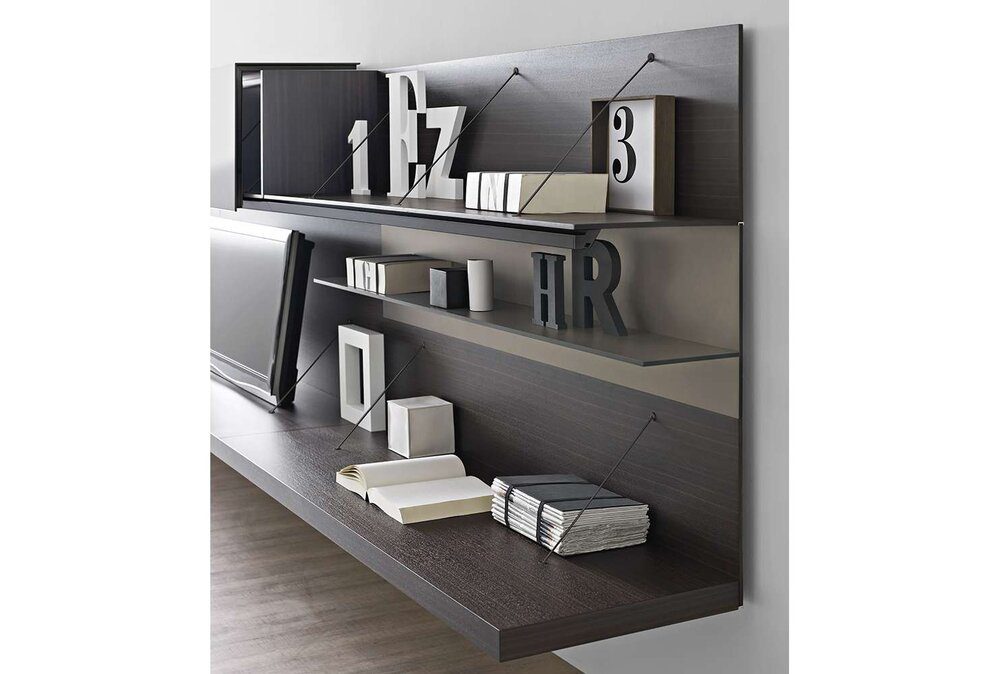 PAB is a wall system inspired by a bicycle wheel's aesthetics. It has an extremely thin and strong panels that are equipped with an aluminum rod – like a folded sheet of paper, hung on the wall, held up by a cable, and at the same time, houses a slot for sliding door panels.
Its functionality provides a large surface area, becoming a desk, ideal for working — an extra feature that exceeds the limits of just an ordinary "bookshelf" — an innovative touch in today's modern homes.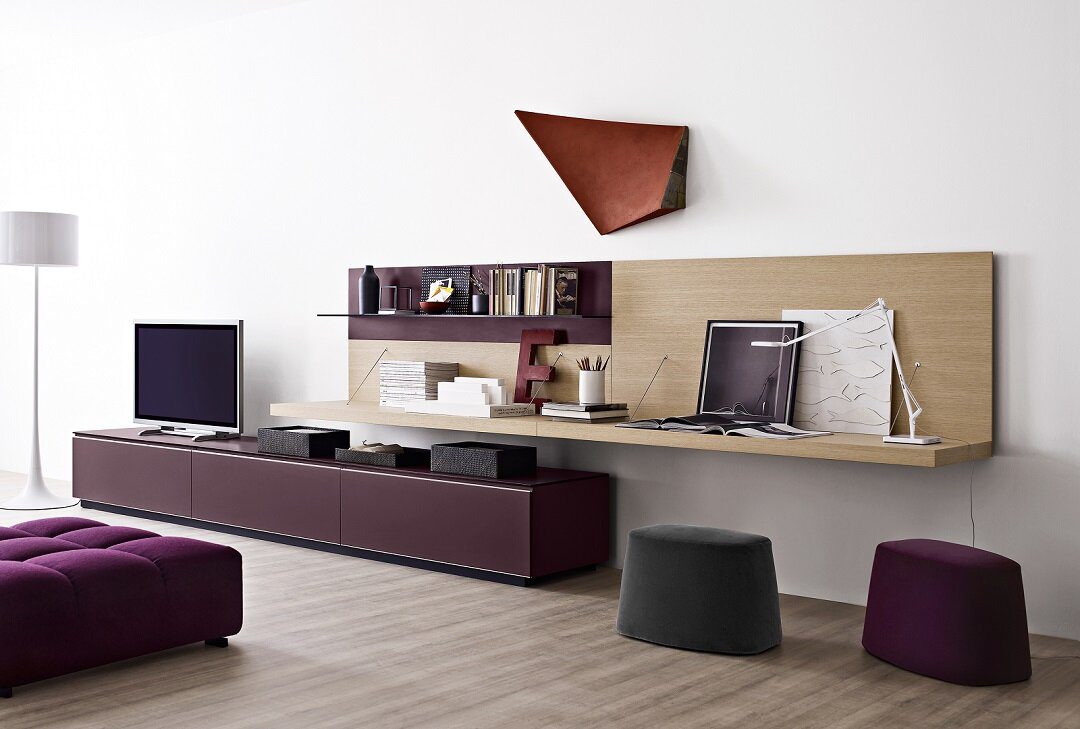 Part of PAB's identity lies in its vast choice of finishes and hues. Wood, aluminum metal, glass, white Calacatta, and grey porcelain stone finishes all make up to highly expressive surfaces that are able to convey a specific story to each composition, enriching the space of your home.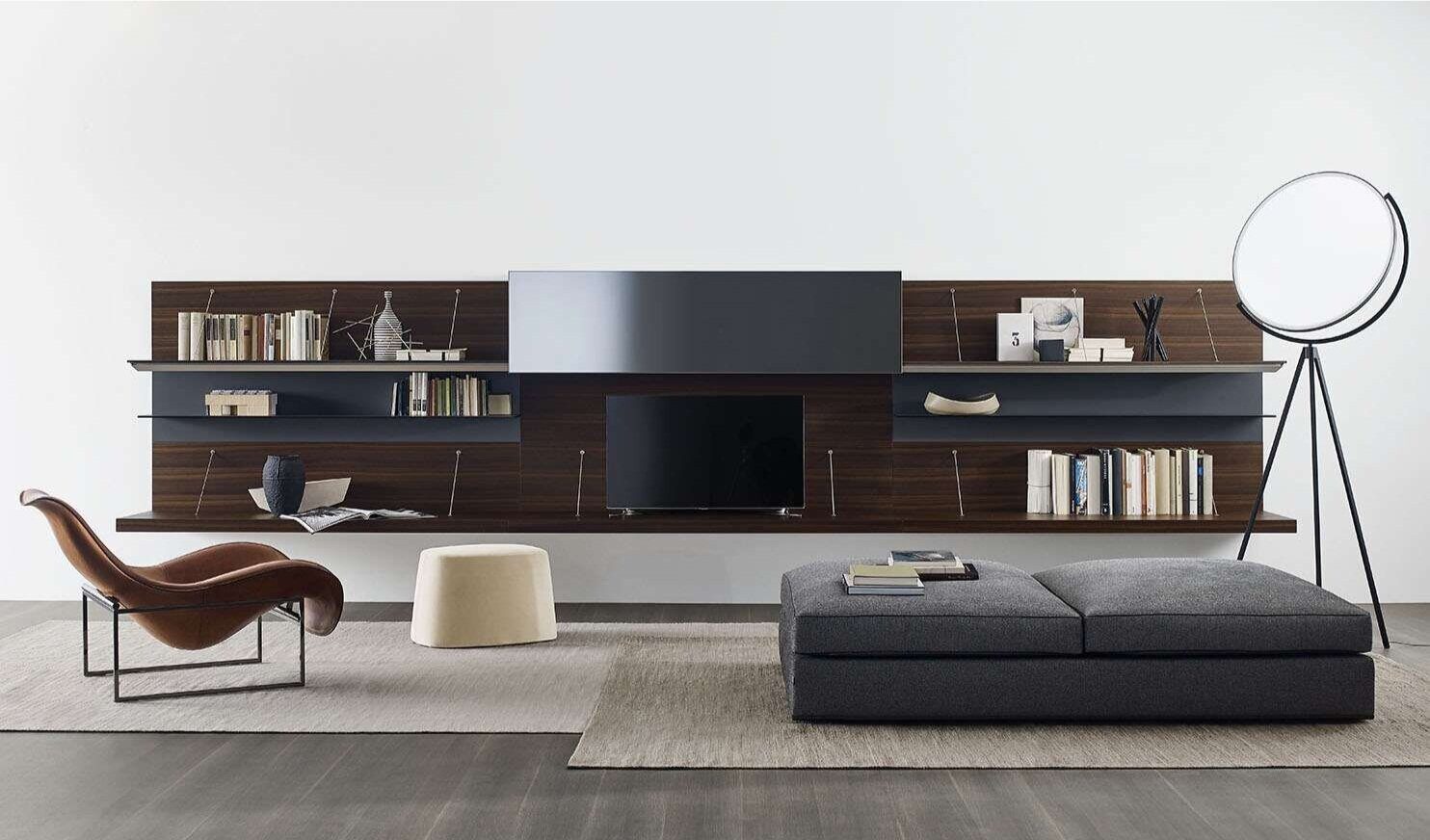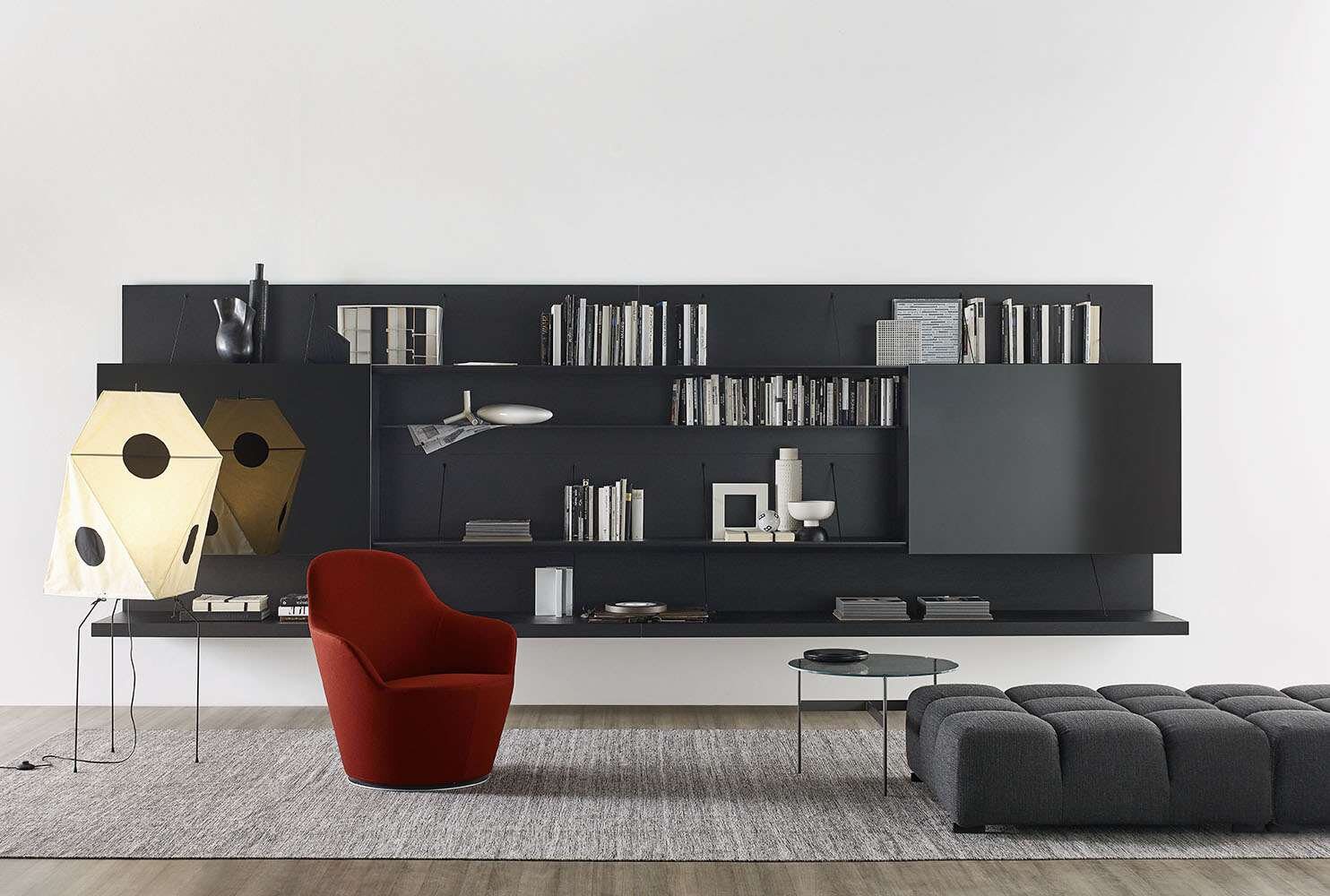 PAB wall system stayed true to its identity of providing smart, convenient, and sophisticated designs. This proves that innovation, when combined with functionality, makes the best creations. Similar to what Pierro Ambrogio Busnelli has embodied throughout his life.
PAB by Studio Kairos and Flat.C by Antonio Citterio are available for Custom Order Request for a design proposal today
In the Philippines, B&B Italia is exclusively distributed by Focus Global Inc. and is located at Twenty-Four Seven McKinley Building, 24th Street corner 7th Avenue McKinley Parkway, Bonifacio Global City, Taguig. Open Mon-Sat from 10AM to 6PM and Sun from 1PM to 6PM. For inquiries and to schedule a personal tour, call 8705.9999 or visit www.bebitaliamanila.com or https://linktr.ee/bebitaliamanilavirtualshowroom to view all available products.