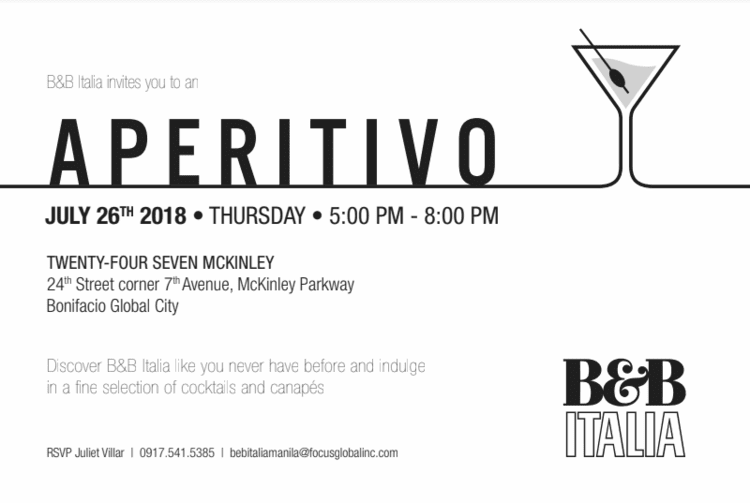 Like everything else, Italians conduct their after-work drinks with unmatched and almost unfair sophistication, adding the Aperitivo to the long list of things that make us admire Italian culture even more.
Aperitivo originates from the Latin verb "aperire" which means "to open" ; it is where friends and family gather for a pre-dinner drink, something fresh and light that will awaken the palette for an exquisite meal to come.
Last August 10th, Focus Global Inc. brought this unique Italian tradition to Manila by hosting Aperitivo at the B&B Italia showroom in BGC.
Over 50 architects and designers gathered at the B&B Italia showroom to unwind after a busy week while enjoying gourmet bites by Focus Global's in-house chefs, as well as perfectly crafted drinks from The Curator Coffee and Cocktails. The Surprise Treat: Guests were asked to take an online quiz on the newly revamped website of B&B Italia Manila (www.bebitaliamanila.com) to find out what B&B Italia piece matches their personality. The result dictated their Aperitivo drink for the night — a perfectly mixed cocktail with character, embodying the rich story behind each of the six B&B Italia pieces featured:
Moon System, a cocktail followed by the sofa's design principle: a free-flowing sculptural piece, carved from a single element. Hence, the drink only played with one ingredient: the Pomelo. With its various iterations from the bittering agent, to the citrus and honey comes a finesse forward-thinking aperitivo for the laid-back.
Papilio, a mix of Gin, Mancino Sakura, Prosecco and Butterfly Pea Sugar. A light drink that was inspired by ethereal butterflies, the english translation for 'Papilio'. The cocktail is made to be unique as it allows itself to be cherished in its ever-changing form.
Canasta, a cocktail reminiscent of the beach. Similar to Patricia Urquiola's outdoor series, the Canasta cocktail is tropical, fun, clean, light and stylish! The drink takes inspiration from a Piña Colada — a drink known for its summery feeling. A mix of tropical favourites: Havana 3, Coconut Water, Falernum, Pineapple & Lime Juice and coconut water, Canasta's sleek and finesse taste will definitely bring the tropical vibe.
Mart, a cocktail that targets a feeling of enduring masculine class. Mart was made from an old-fashioned Negroni mixed with Bourbon, Campari, Averna and Macino Rosso — crafting a classic drink by adding depth and mystery while still maintaining its finesse form.
Serie Up 2000, one of B&B Italia's most iconic pieces. The designer armchair by Gaetano Pesce is a coveted piece that takes inspiration from a woman's form. Consequently, with the mix of vodka, the cocktail drink is a combination of milk and matcha, two comforting products put together to create a familiar, relaxing, motherly and nourishing. The cocktail envelopes the person and answers a yearning, a sensory need for comfort – a motherly hug to keep coming back to.
SAKé, the cocktail takes inspiration from the sofa's design principle — the feeling of lightness. SAKé is composed of products traditionally found on heavy deep drinks but for SAKé, it allows a feathery and fleeting presence once sipped.